About Us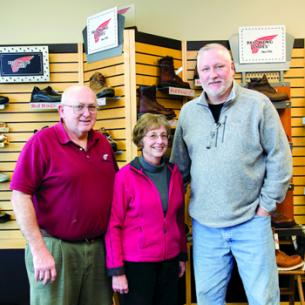 Here at Modern Shoe Shop and repair we specialize in Resoling of boots and shoes. Any shoe repair needs come see us. Some of the brands of shoes and boots that we carry are Red Wing Boots, Irish Setter Hunting Boots, Irish Setter Work Boots, Worx Boots by Red Wing, Vasque Boots, Red Wing Heritage Boots and Shoes, SAS shoes, Wigwam Socks,Carolina Boots, and so much more! We can resole your work boots or shoes from Red Wing, Carolina, Red Wing Heritage, Birkenstock,Irish Setter and others. Any stitching of shoes,boots,coats,purses etc.

Did we mention that we are also a shoe and boot repair shop in Dixon, Illinois? We help our customers by providing special services to help fix their once brand new boots that have been roughed up over the years. Our team of experts can help restore and repair your shoes and boots to make them look and feel as if you had just brought them home for the first time. Don't just take our word for it though; let us show you what we can do! Come into Modern Shoe Shop and repair today and let us help! We are your Red Wing Resole specialist.

Whether you're looking for a shoe shop or boot shop that also specializes in boot repair in and around Sauk Valley (Dixon, IL); trust that you're in excellent hands when you come into Modern Shoe Shop!

Modern Shoe Shops' History
In 1929, when the stock market crashed, Frank Deutsch was an accountant with a firm in Chicago. Instead of jumping out of a window and committing suicide as many of his colleagues did, Frank moved to Dixon, IL where he bought some shoe repair equipment and in 1930 started The Modern Shoe Shop. Frank began on First Street in Dixon and later moved to a basement location on Galena Avenue. He did tax and accounting work for people as a side job throughout his lifetime. Frank, later began selling shoes and work boots, including Red Wing Boots.
In 1975, Frank sold the business to Gary Lenox. Gary moved The Modern Shoe Shop to 77 S. Galena Ave., a corner location at street level. In 1977 Gary Lenox sold the business to Karen and Gary Michel because he wanted to move for health reasons.

Karen and Gary have owned the store since that time. In 2000, the State of Illinois decided to build a new bridge across the Rock River and needed the space occupied by Modern Shoe Shop. Karen and Gary were forced to move and found the current location, 1309 N. Galena Avenue and moved in January, 2001.

Fast forwarding to March 2015; Karen and Gary have passed the torch onto new ownership which will continue to grow The Modern Shoe Shop and Repair. The store will continue to grow with new products, new measuring technologies, and expand on their shoe and boot repair services. While Modern Shoe Shop will be under new management; Gary will continue to stay on for awhile and continue to help out with boot and shoe repairs as will his very experienced shoe staff.